---
Attention: For textbook, access codes and supplements are not guaranteed with used items.
Arrives in 3-7 Business Days
---
Christina and Grant start in New Orleans. Their two new friends start at the headwaters of the Mississippi River in Minnesota. They planned to meet at the Gateway Arch in Saint Louis. But they didn't plan on getting involved in a very strange mystery which takes them over locks and dams, past Tom Sawyer's cave and past many other fascinating sights along the mighty Mississippi. Are they being followed? Tricked or trapped? Come along for the ride and see!

LOOK what's in this mystery - people, places, history, and more!
New Orleans history, facts, and traditions The French Quarter of New Orleans Mimes Mardi Gras history Cajun history and lifestyle (seafood gumbo, zydeco, and Cajun two-step) Funeral traditions in New Orleans Where the Mississippi River runs Mississippi River history and facts Paddlewheeler boats Life along the Mississippi River Gateway Arch construction, architecture, and history St. Louis history Jackson Square The Cabildo, famous fort where the Louisiana Purchase had been signed City of the Dead, Burial Ground Gateway Arch, St. Louis, Missouri Museum of Western Expansion.

Like all of Carole Marsh Mysteries, this mystery incorporates history, geography, culture and cliffhanger chapters that will keep kids begging for more! This mystery includes SAT words, educational facts, fun and humor, built-in book club and activities.

Below is the Reading Levels Guide for this book:
Grade Levels: 3-6
Accelerated Reader Reading Level: 4.4
Accelerated Reader Points: 3
Accelerated Reader Quiz Number: 79514
Lexile Measure: 680
Fountas & Pinnell Guided Reading Level: Q
Developmental Assessment Level: 40

Get your FREE Resources!





1. Download the Carole Marsh Mysteries Real Kids! Real Places! Correlations to Common Core/State Standards HERE.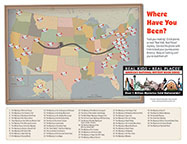 2. Download the Where Have You Been map HERE.









3. Utilize the Real Kids! Real Places! Common Core State Standards Teacher Resource for classroom discussion questions and activities for ELA grades 2-6. This can be used for all 50 mysteries HERE.







4. Download additional activities including Fact or Fiction, Fascinating Facts, Book Club Discussions and Book Club Activities HERE.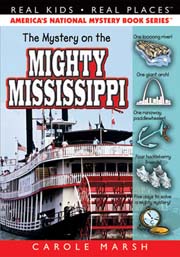 5. Want a sneak peak? Read the first three chapters HERE.
---
Customer Reviews
---
MORE FROM THIS COLLECTION